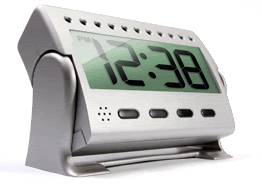 Wilife has recently introduced a desk clock that can spy on you. The site says
Use it to monitor and record your employees, the nanny, the babysitter or other activities
The Spy Camera masquerades as a sleek, fully functioning digital clock, yet it's a powerful security camera in the LukWerks Video Security System. This hidden camera is perfect for coverage of any area of the home or small business that requires discreet observance. Its design gives you the ability to place the camera on any flat surface and adjust the built-in camera's view by tilting the clock up or down.
The Spy Camera is portable – just plug it into any electrical outlet and the camera sends recorded video back to your PC!
The Spy Camera is available in a Starter Kit, if you don't have LukWerks, or in an Add-on Camera package, if you want to add this camera to your existing system.
This sounds really weird!!! Now who's tracking you....