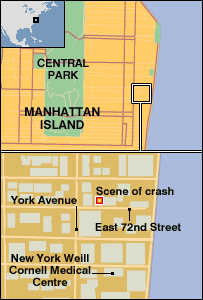 New York police officials issued an emergency statement a short while ago, announcing that an aircraft crashed into a brick-based residential building, located on the Upper East Side, at 72nd Street and York Avenue in Manhattan.

The Associated Press highlighted that the building is the famous Belaire Condominiums, a luxurious 50-floor appartment complex, built in 1989 near East River.
The news has been confirmed by the Federal Aviation Administration which declared that a "general aviation" fixed-wing airplane flying under visual flight rules, had just hit the building.
There has been no reported casualty toll so far, as 150 firefighters from the New York Fire Department have been dispatched to the crash scene and are currently struggling to contain the fire that engulfed several floors at the middle of the building.
According to the a spokesperson of the North American Aerospace Defense Command, which had been assigned to monitor air traffic in that area, the specific aircraft had not been tracked.
CNN interviewed one of the eye witnesses, Sarah Steiner, who declared that fires were also burning on the ground, which may be due to the fallen debris of the aircraft: "It looks like the plane just flew into someone's living room there. It looks as if the aircraft didn't go into the building but fell down. It may be part of the debris burning on the ground". She stressed upon the fact that when she arrived at the scene of the dramatic crash, she located the fire burning on the 30th floor of the building.
The FBI issued a formal statement, through which it assessed that the tragic event bears no indication to any terrorism-related attack, the BBC reports. "I have no reason to believe at this point that the crash in New York City is terrorism-related", one security official stressed, declining to provide his identity, given the sensitivity of the matter.
A BBC correspondent in Manhattan, Guto Harri described the crash scene as being completely paralyzed, with fire department vehicles, police and ambulance units blocking all roads situated in its vicinity.
The FAA instituted a one-mile restriction area around the site, yet no New York flights or airports were affected.

Here's a Video of the incident I found at SoapBox



Video: Aftermath of a Plane Crash -- NYC October 11, 2006