Today I was faced with a rather strange requirement - How to create a Group Box in HTML?
For those of you who don't know what a Group Box is.... here is a screen shot of it.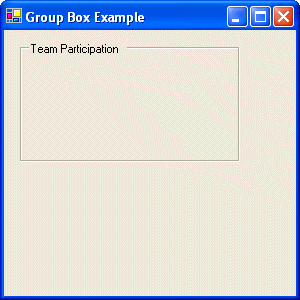 This is very simple to do in a Windows Application, but here I was needed to replicate the same in HTML. Well, I did a bit of research and found a very simple way to get a Group Box on the web.
The fieldset tag is used to group multiple elements together on a page and provide a caption for the grouping. The caption is supplied with the legend tag inside the fieldset.
So here's the simple code for it:



<fieldset style="width:100px;">

<legend>

Please Enter Your Name</legend>

<br>

<table>

<tr>

<td>First Name:</td>

<td><input type="text" /></td>

</tr>

<tr>

<td>Last Name:</td>

<td><input type="text" /></td>

</tr>

</table>

</fieldset>
The output of the webpage is: